Learn the skills of medieval warriors and vikings or just channel your inner Canadian lumberjack by throwing axes and knives at a target. Axe throwing is a fun, friendly, and safe activity that is great for corporate events, groups, bachelor/bachelorette parties, and date nights. No experience required. Our qualified instructors will provide you with training and you'll be hitting bullseyes in no time. 
Axe Throwing is a recreational sport that is very similar to darts, but instead of using darts, you'll be throwing axes and knives at targets! No experience required. Participants must be age 10 or over. Hone your skills, compete, and make memories!
Axe throwing is a popular alternative to your typical night out: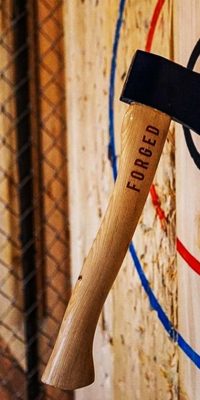 Axe Throwing session includes:
Instruction, safety, and training with qualified instructors.
Large selection of throwing axes, knives, and tomahawks
Keep track of your score and progress
Free souvenir photos of each player in action
Large Private Meeting room
Groups may enjoy some private time in our large meeting room located on the second floor with views over the playing field. Order pizza or cater food for your meeting. You may bring drinks and store it in our fridge space. Table cloths, a fridge and a microwave are included in the meeting room.